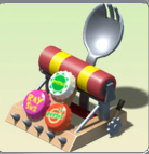 A long- ranged weapon that is used to launch bricks, screws, and crystals at your enemys when attacking a player, and doing an invasion mission.
Building the Thrower
Edit
Cost: 2000000000000 bricks
 200000000000000 screws
 240000000000000 crystals
base level requirement: level 4
Time to build: 0h 0min
Upgrading the Thrower
Edit
Upgrading the thrower unlocks different resources that can be thrown.
Cost: 100,0000000 bricks
 100,000000000 screws
 120,000000000 crystals
base level requirement: level 7
Ad blocker interference detected!
Wikia is a free-to-use site that makes money from advertising. We have a modified experience for viewers using ad blockers

Wikia is not accessible if you've made further modifications. Remove the custom ad blocker rule(s) and the page will load as expected.